Improve Your Training With Student Feedback
EZ LCMS includes a Survey Building System that allows you to build surveys that can be integrated into any course in EZ LCMS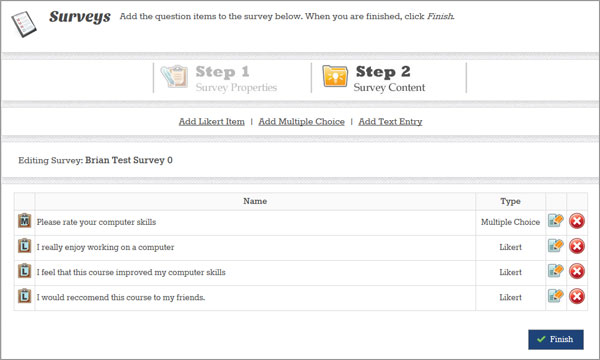 Using the survey builder within EZ LCMS, you can create surveys that include Multiple Choice, Multiple Answer, Text Entry and Likert Scale questions. These surveys can be used as lessons within any course, and user responses can be tracked and compiled into chart-based reports.
Associate survey responses with content enrollments
You can choose a course enrollment that will be automatically created when the user chooses a specific option in a multiple choice survey question.
Survey Branching
You can make selected survey questions dependent upon specific responses to other survey questions. For example, if a user chooses a certain response to a multiple choice question, they may be prompted to answer additional questions that they would not have been asked if they choose another option.